Professional, Quality Commercial Cleaning
Because Quality Is Necessary
First-Rate Cleaning and Professional Service
Coffee stains on the lobby carpet. Greasy fingerprints on the meeting table. A grimy bathroom sink.

These are things that you should never have to worry about when you're busy doing your job.

Clean and healthy working spaces increase your productivity and build trust with your clients.  We promise to clean your workplace to your exact instructions every single time. No cut corners. No excuses.

Cleaning Is Our Business, So Leave It To Us!
Commercial Cleaning Services
Complete Building Cleaning Services
Trustworthy and Respected Professional Cleaning
Custom-tailored cleaning plans to fit your business. The scope of work may include all internal, general and routine cleaning – including floors, tiles, partition walls, internal walls, suspended ceilings, lighting, furniture and cleaning, window cleaning, deep cleans of sanitary conveniences and washing facilities, kitchens and dining areas.  
Simply stated, industrial cleaning is the act of cleaning hazardous areas in industrial facilities such as factories, warehouses, power plants and other types of industrial facilities.
Post Construction Cleaning
Post construction cleanup helps clean and remove any debris, dust, mud, adhesive, and other substances that are left over after a construction project.
Cleaning out a whole home is an involved process. Taking it in systematic steps can make it easier and quicker.  Real estate clean out services cover furniture removal, clothing that has been left behind, taking out kitchen appliances and dinnerware, possibly a basement and/or attic clean out, plus a garage if needed.
Floor care is one of the first things that your customers see when entering your company. To maintain a clean and bright appearance, vinyl composition tile (VCT) often requires strip and wax services. Maintenance for VCT flooring is very labor intensive, time consuming and requires expertise for it to turn out right.
With our power washing services, you can quickly and effectively remove built-up dirt, sediment, and other debris.
You have precious few seconds to make a first impression on new customers.
Dull floors, spotty windows, and dusty displays all tell your customers that your business doesn't stand for quality. Is that the impression you want to make?
Whether you have a store, a bank or a car dealership, we'll make your retail space sparkle. Make your customers feel the unique value that you will add to their lives.
A clean office helps your employees take pride in their work and their workplace. It's a sure way to improve worker morale.
It's also critical for presenting the best image to your clients. Do you want your hot new lead visiting a dirty bathroom?
We'll will keep your entire office– workspaces, meeting rooms and bathrooms– clean, sanitized and healthy for you, your employees and your guests.
Schools & Childcare Cleaning
Coughs, sneezes, snacks and more…schools and daycares are filled with germs, spills and all sorts of creative messes.
Our expert cleaning staff is trained to clean and sanitize educational facilities of all types– from daycares to universities.
Let our meticulous team keep your school clean and healthy so you can keep your focus on education.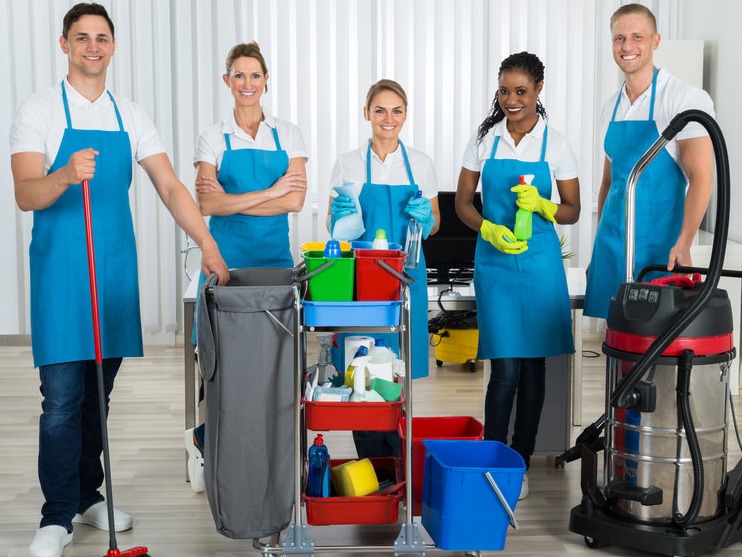 Reliable Commercial Cleaning in and around Boston, MA.
We're proud to be the most respected and thorough commercial cleaners serving the Boston community. We've helped make thousands of offices, medical studios, schools and stores shine for their employees and customers.
Our detailed and professional crew takes pleasure in creating a clean and healthy working environment for your team. We'll bring our own top-of-the-line equipment and cleaning tools to handle even the toughest cleaning challenges. And after 28 of years in the cleaning business, we've just about seen it all!
Our goal is always to keep your workplace spotless without you needing to think twice about it. But if something isn't perfect or you have a special request, we're always here to accommodate your needs.
FREE COMMERICAL CLEANING ESTIMATE!